Transform Your Bournemouth Conservatory with a Replacement Roof Today!
Are you looking to breathe new life with a conservatory roof replacement in Bournemouth? Look no further! With our first class replacement roofs, you can transform your conservatory into a stylish and functional space that you and your family will love. Whether you're tired of dealing with leaks and drafts or simply want to update the look of your conservatory, our team of experts is here to help. We offer a wide range of high-quality replacement roofs that are not only durable and energy-efficient but also aesthetically pleasing. Say goodbye to those outdated and worn-out roofs and say hello to a revitalized conservatory that will truly enhance your home. Don't wait any longer – contact us today to discuss your options and take the first step towards transforming your Bournemouth conservatory into a haven of comfort and beauty.
Why consider a replacement roof for your Bournemouth conservatory?
Your conservatory is a valuable addition to your home, providing a space where you can relax, entertain guests, or enjoy the beauty of your garden all year round. However, over time, the roof of your conservatory may start to show signs of wear and tear. Leaks, drafts, and temperature fluctuations can make your conservatory uncomfortable and reduce its energy efficiency. This is where a replacement roof comes in. By opting for a new roof, you can address these issues and enjoy a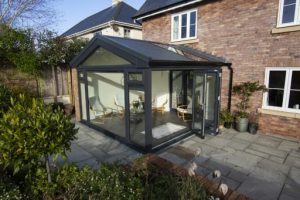 range of benefits that will enhance your conservatory experience.
Benefits of a replacement roof for your conservatory.
Investing in a replacement roof for your Bournemouth conservatory comes with numerous benefits. Firstly, it improves the insulation of your conservatory, making it more energy efficient. With better insulation, you can enjoy a comfortable temperature throughout the year, no matter the weather outside.
This not only makes your conservatory a pleasant space to be in but also helps to reduce your energy bills. Additionally, a replacement roof eliminates leaks and drafts, ensuring that your conservatory remains dry, cozy, and protected from the elements. You no longer have to worry about water damage or the inconvenience of buckets strategically placed to catch drips during rainy weather. Aesthetically, a replacement roof can completely transform the look of your conservatory. With a range of stylish designs and materials to choose from, you can update the appearance of your conservatory and make it a focal point of your home. Whether you prefer a contemporary look or a more traditional style, there is a replacement roof option that will suit your taste. Furthermore, a new roof can increase the value of your property. Potential buyers are often attracted to homes with well-maintained conservatories, and a new roof will make your property stand out in the competitive housing market.
Types of replacement roofs available for conservatories.
When it comes to replacement roofs for conservatories, there are several options to choose from. One popular choice is a solid conservatory roof, which offers excellent insulation and soundproofing properties. This type of roof is ideal if you want to create a cozy and quiet space that can be used all year round. Composite tiles are used to give a traditional roof look. There are also tiled conservatory roofs, which combine the benefits of both solid and glass roofs. These roofs offer insulation and durability while allowing natural light to enter the conservatory. Another option is a glass conservatory roof, which provides a bright and airy atmosphere. With advanced glass technology, these roofs can offer excellent thermal efficiency, preventing excessive heat loss during the winter and reducing solar gain in the summer.
Factors to consider when choosing a replacement roof for your conservatory.
Before making a decision on a replacement roof for your Bournemouth conservatory, there are several factors to consider. The first is the style and design of the roof. You want to choose a roof that complements the overall aesthetic of your home and blends seamlessly with your existing architecture. The material of the roof is another important consideration. Each material has its own advantages and disadvantages in terms of insulation, durability, and maintenance. Additionally, you should think about the level of customisation you desire. Some replacement roofs offer more design options, allowing you to personalise your conservatory to your liking. Finally, it's essential to work with a reputable company that specialises in conservatory roof replacements. Look for a company with a proven track record, positive customer reviews, and a portfolio of previous projects.
The installation process for a replacement roof.
Once you have chosen the perfect replacement roof for your Bournemouth conservatory, it's time to move forward with the installation process. The first step is to schedule a consultation with a professional company. During this consultation, the experts will assess your conservatory, take measurements, and discuss your specific requirements and preferences. Based on this information, they will provide you with a detailed quote and a timeline for the installation. It's important to ask any questions you may have during this stage to ensure clarity and avoid any surprises later on. Once you have agreed to the terms and the installation date has been set, the company will start the work.
The old roof will be carefully removed, and any necessary repairs or modifications to the existing structure will be made. The replacement roof will then be installed, ensuring a precise fit and proper sealing to prevent any future leaks. Throughout the installation process, the team will work efficiently and with minimal disruption to your daily life. Once the job is complete, they will clean up the work area and leave your conservatory looking fresh and revitalised.
Transforming the look and feel of your conservatory with a replacement roof.

One of the most exciting aspects of getting a replacement roof for your Bournemouth conservatory is the opportunity to transfor
m the look and feel of the space. Whether you want to create a cozy retreat, a bright and airy sunroom, or a stylish entertainment area, the right replacement roof can help you achieve your vision. With a solid roof, you can add ceiling spotlights and create a warm and inviting atmosphere. A glass roof allows you to stargaze at night or enjoy the beauty of the surrounding nature during the day. Tiled roof conservatories can be customised with various finishes, such as slate or shingle, to complement your home's exterior. The possibilities are endless, and with the help of expert professionals, you can turn your conservatory into the space of your dreams.
How to choose a reputable conservatory roof replacement company in Bournemouth.
Selecting the right company to handle your conservatory roof replacement is crucial to ensure a successful and hassle free experience. To find a reputable company in Bournemouth, start by researching online and reading customer reviews. Look for companies with a solid reputation, years of experience, and a portfolio of successful projects. It's also important to check if the company is properly licensed and insured. Additionally, don't hesitate to ask for references and contact previous clients to get a first hand account of their experience working with the company. By doing thorough research and due diligence, you can feel confident in your choice of a conservatory roof replacement company.
Frequently asked questions about conservatory roof replacements
Q: How long does the installation of a replacement roof take?
A: The installation time can vary depending on the size and complexity of your conservatory and the chosen replacement roof. On average, it takes around 2-4 weeks from the initial consultation to the completion of the installation. But the roof can usually be watertight within a few days.
Q: Will I need planning permission for a replacement roof?
A: In most cases, replacing a conservatory roof falls under Permitted Development Rights, if replacing your roof with a solid roof or a tiled conservatory roof then these are ALL under Building Regulations with no exceptions and will be signed off by a building inspector. meaning planning permission is not required. However, there may be exceptions based on factors such as the size of the conservatory and the location of your property. It's always best to check with your local planning authority to ensure compliance with regulations.
Q: Are replacement roofs covered by a warranty?
A: Yes, reputable companies typically offer warranties on their replacement roofs. The length and terms of the warranty can vary, so it's important to discuss this with the company before making a decision. A warranty provides peace of mind and ensures that you are protected in case of any unforeseen issues with the roof.
Conclusion:
Enhance your Bournemouth conservatory with a new roof Don't let an outdated and worn out conservatory roof hold you back from fully enjoying your Bournemouth conservatory. With a replacement roof, you can transform your space into a comfortable, energy efficient, and visually stunning area that adds value to your home. Take the first step today by contacting our team of experts to discuss your options. We have a wide range of high quality replacement roofs to choose from, and our knowledgeable professionals will guide you through the entire process, from consultation to installation. Don't wait any longer – breathe new life into your Bournemouth conservatory and create a haven of comfort and beauty that you'll love for years to come.
https://precisionhomeimprovements.uk/the-ultimate-choice-for-solid-roof-conservatories/